LATEST PRODUCTS
Thomas The Tank Party Invites 2012

Price £3.25
Thomas The Tank Paper Plates 2012

Price £2.99
NEWS & EVENTS
Chuggington Diecast Sale Now On
All Chuggington diecast models now reduced, hurry while stocks last.
New Chuggington Wooden Railway...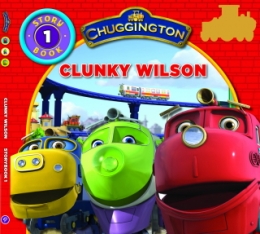 Story Book With Stickers No1 - Clunky Wilson CH/B/SB1CW
Koko, Wilson and Brewster love racing each other - until Wilson damages his wheel. At first, he is too scared to go to the repair shed to get it fixed. But when Wilson's condition gets worse, the Red chugger can't ignore the problem any longer. Perhaps the repair shed won't be so scary after all........
Encourage your children to read with this Chuggington story about Wilson. A hard back book with 26 pages, and over 40 stickers of encouragement with pictures and words, such as Well Done, Well Read, Good Try and Lets Read Again.
Please note the purchasing of all products on this site is currently disabled, please check back soon when we reopen - hope to see you then!
Price £3.99

COMPETITION AND E-NEWS SIGN UP
Free Thomas The Tank Hot Water Bottle
To recieve our enews with details of new products and special offers plus the chance to win a Thomas Hot Water Bottle worth £10.99 in this month's competition. Simply register here.
FEATURED PRODUCTS
Thomas Story Library No1 - Thomas

Price £2.99
Chugington - Diecast Dunbar

Price £5.75
Wooden Railway - Percy

Price £9.99