LATEST PRODUCTS
Thomas The Tank Party Invites 2012

Price £3.25
Thomas The Tank Paper Plates 2012

Price £2.99
NEWS & EVENTS
Chuggington Diecast Sale Now On
All Chuggington diecast models now reduced, hurry while stocks last.
New Chuggington Wooden Railway...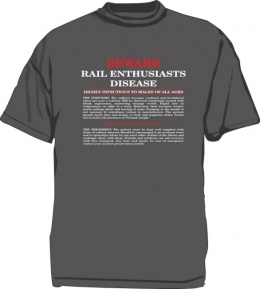 Cotton T Shirt - Rail Enthusiasts Disease
A Black Fruit of the Loom Heavy Cotton T Shirt specially for the Rail Enthusiast. The wording on the T Shirt says " Beware Rail Enthusiasts Disease Highly Infectious To Males Of All Ages The symptoms: The sufferer becomes confused and bewildered when not near a railway. Will be observed wandering around with blank expression, muttering strange words. Rapid rise in temperature at sight of a train. Behaviuor then becomes erratic much rushing about and waving of arms. Foaming at the mouth is not unusual. Is sometimes violent to none believers. The patient spends much time and money at book and magazine shops. Seems not to notice the presence of normal people. This condition is not fatal. Treatment etc.
Please note the purchasing of all products on this site is currently disabled, please check back soon when we reopen - hope to see you then!
Price £9.99

COMPETITION AND E-NEWS SIGN UP
Free Thomas The Tank Hot Water Bottle
To recieve our enews with details of new products and special offers plus the chance to win a Thomas Hot Water Bottle worth £10.99 in this month's competition. Simply register here.
FEATURED PRODUCTS
Thomas Wooden Railway - Rocky

Price £19.99
Ivor The Engine Enamel Badge

Price £1.99
Thomas The Tank - Slimline Torch

Price £3.50